TJC's Unique Tai Ji Quan Push Hands and Applications with Grandmaster Zhu Changhai
September 13, 2016 @ 6:00 pm

-

8:00 pm
Unique Tai Ji Quan Push Hands and Applications Seminar with Grandmaster Zhu Changhai and Grandmaster Li Derun & Grandmaster Huo Ruiting with Master Liu
Tuesday 13 September 2016
Time: 6.00-8.00 pm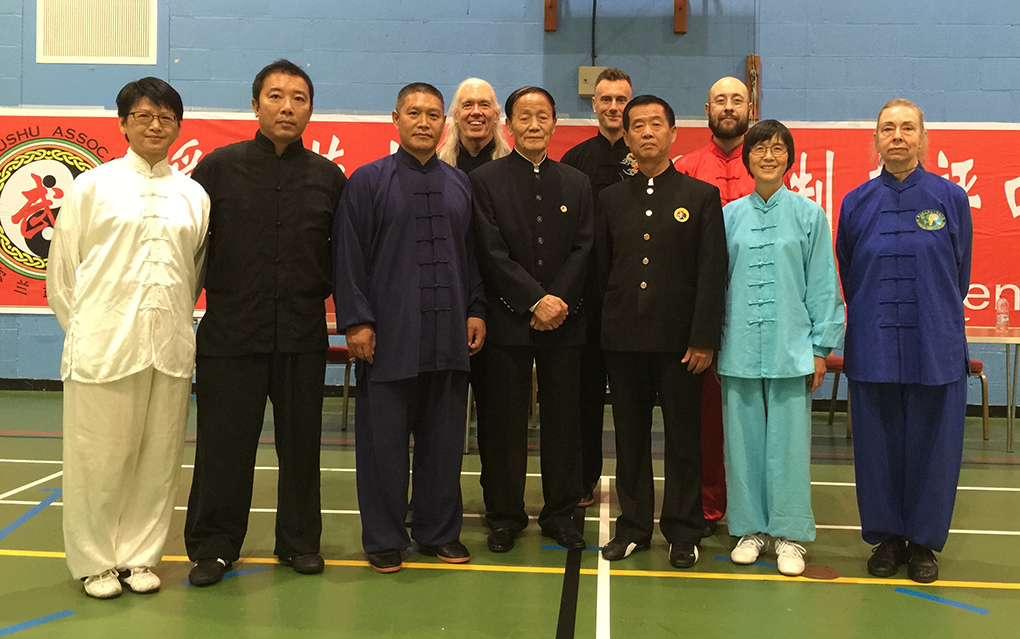 Master Liu with two Grandmasters Li Derun and Huo Ruiting, with Tai JI Circle students after their Duan Wei exam in Belfast
After successfully completing our Duan Wei exams in Belfast with the Irish and Chinese Wushu Associations, Master Liu and Tai Ji Circle students in London have a really unique opportunity of meeting with three top 8th Duan martial arts masters, Grandmaster Zhu Changhai and his revered Masters from China, Li Derun (successor Yang Family Taiji Quan fifth-generation) and Huo Ruiting (Seven Star Praying Mantis).
Grandmaster Zhu Changhai is a disciple of Chen Xiaowang, and a 20th Generation Lineage Holder of Chen Family Taijiquan. He is ranked 8th Duan Wei by the Chinese Wushu Association for high personal achievement and worldwide contributions in promoting and developing Chen Style Taijiquan. Grandmaster Zhu is also the Chairman of the Irish National Martial Arts Association, President of the Northern Ireland Wushu Association.
It is an honour for Master Liu and Tai Ji Circle to welcoming these three esteemed grandmasters to London in a classic tai ji push hands and applications seminar suitable for all levels.
Seminar Fee: £25.00 (cash on the door)
Space is limited so please book your place through Eventbrite or with Chris asap: [email protected]
Venue: YMCA at One KX (basement studio)
120 Cromer Street, London, WC1H 8BS
Walk down Judd Street and YMCA on corner of Cromer Street.
King's Cross/St Pancras Stations and Underground 
See Grandmaster Zhu performs the 56 Chen style: https://www.youtube.com/watch?v=NXoGVHZzOZM